---
Yield up to 8.2%  |  Payment via UPI  |  Crisil AAA Rated secured bond
India's first listed power sector infrastructure investment trust, i.e., IndiGrid, is set to launch NCD-IPO. IPO will start on 28 April and closes on 5 May.  There will be six series of NCDs. Coupon ranges from 6.65 % p.a. To 8.2 % p.a. These NCDs are secured and redeemable in nature. They will be listed on the Bombay Stock Exchange and the National Stock Exchange. These NCDs have received a rating of AAA  by India Ratings and CRISIL. Tenor can be 3years, 5 years, 7 years, or 10 years from the deemed date of allotment. The base issue size is RS. 100 Crores and can be extended up to Rs. 1000 Crores. Though IPO will be live up to 5 May, it may subject to early closure if oversubscribed. 
If you are already holding bonds of IndiGRid, then you are privileged. The present unitholders are entitled to receive an additional one-time incentive at the end of the first year. The incentive is directly proportional to the amount you invest in IPO. However, it will be between 0.05% to 0.20%. 
| | |
| --- | --- |
| Issuer | India Grid Trust |
| Type of instrument  | Secured, Rated, Listed, Redeemable, Non-Convertible Debt Securities |
| Listing | The NCDs shall be listed on the BSE Limited (Stock Exchange) within six Working Days from the Issue Closing Date  |
| Issue Size | Base size- Rs. 100 Crores (aggregating up to Rs. 1000 Crores) |
| Issue Price  | Rs. 1000 per NCD |
| Minimum Investment  | Rs. 10,000  |
| Issue Opening Date  | April  28, 2021 |
| Issue Closing Date  | May 5, 2021 (*with an option of early closure |
| Mode of Application | ASBA only |
| Mode of Issuance  | Dematerialized only  |
What are the coupon rates for retail, HNIs, institutional & non-institutional investors?
Frequency of Payment

Annual

Annual

Annual

Quarterly

Annual

Quarterly

Coupon

Category I/II

6.65%

7.45%

7.70%

7.49%

7.95%

7.72%

Yield 

Category I/II

6.64%

7.45%

7.69%

7.69%

7.95%

7.95%

Coupon

Category III/IV

6.75%

7.60%

7.90%

7.69%

8.20%

7.97%

Yield

Category III/IV

6.74

7.60%

7.89%

7.91%

8.20%

8.21%

Tenure

3 years

5 years

7 Years

7 Years

10 Years

10 Years
Category I  –  Institutional Investors  

Category II- Non-Institutional Investors 

CategoryIII – HNIs

Category IV- Retail Investors



---
To participate in IndiGrid NCD- IPO,

click here. 
---
Pros and Cons of IndiGrids' NCDs 
Pros
IndiGrid has been given the highest safety rating of AAA/ Stable  by 3 credit rating agencies: CRISIL, ICRA, and India Ratings
Asset-heavy company with assets worth 2.8 BN USD. The NCDs are securitized by these assets and other payables.
Practically zero risks of default. IndiGrid gets paid by State Governments for running the power distribution infrastructure. In case of issues in payment, the company has the right to get paid from the Central Government coffers.
Cons
Relatively new company. IndiGrid started its operations 4 years back.
You can invest in IPOs via GoldenPi in three easy steps.
Sign up at Goldenpi.com —> Enter Amount—> Make Payment via UPI
Can I invest in IndiGrid IPO using Google pay UPI?
Yes, you can invest in IndiGrid IPO using Google pay UPI. You need to provide your Google Pay UPI ID while making payment and then in Google Pay App, you should approve the payment within 48 hours (from the time you receive the notification on the Google Pay App).
Step 1: How to apply for India Grid Trust NCD- IPO on Goldenpi.com?
Click 'Apply' on Bond IPO for the series that you would like to invest in. You will be guided to the IPO section, where you can apply a. Up to 8 Lacs via online (UPI mode) or b. more than 8 lacs via physical application form fill-up.  One person can submit a maximum of 4 applications. The maximum amount for each application is 2 lakhs. 
Step 2: If the investment amount is less than 8 lakhs–
Once you submit your IPO application, your Bank will send you an SMS requesting approval of the payment via UPI. You can go to the respective UPI app and approve the payment. By approving the payment, you are accepting the mandate. Your funds will be blocked in your account via ASBA till the unit allotment is done. 
National Payments Corporation of India (NPCI) has set a transaction limit of 2 lakhs in the UPI-based payments on the instant inter-bank fund transfer mechanism. Since every investor can submit a maximum of four applications the maximum amount that can be invested via online mode is 8 lakhs. If you are investing more than 8 lakhs, you need to invest in physical mode. 
If the investment amount is more than 8 Lakhs –
A.Fill up the form with the required information. 
B.Take a photo of your form and share it with your Relationship Manager for bidding on exchange. 
C.Courier the filled up IPO form to our office address as early as possible. The issue closes by May 5th,  2021. The earlier you send it, the better it is.
Our Address: IndiQube Orion, Gro,und Floor,
24th Main Road, Garden Layout, Sector 2,
HSR Layout, Bangalore, Pincode: 560102
Step 3. IPO allotment
IPO will be allotted to you on a first-come, first-serve basis and credited to your Demat account. 
---
---
Dos and Don'ts of IndiGrid NCD IPO
Every individual can submit only one IPO application. 

The Demat account must be active. 

After applying for an IPO, you can not change your contact details such as email id and cell number until allotment. 

If you are paying via UPI, then the UPI mandate must be accepted within 48 hours.
About India Grid Trust IndiGrid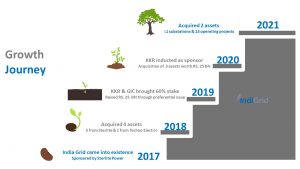 IndiGrid is a power sector infrastructure investment trust. Investment in the transmission and renewable energy sector is IndiGrid's primary business vertical; however, the company is diversifying into solar assets (exposure is limited to 25% of business).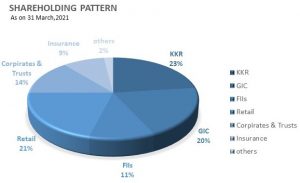 IndiGrid was established in 2016. The company is headquartered in New Delhi. KKR and Sterlite Power are its sponsors. KKR is a leading global investment firm, and Sterlite Power Transmission Limited is one of the top independent power transmission companies operating in the private sector in India. 
It has a Transformation Capacity of 13,550 MVA. The company owns 11 substations and 13 operating projects. Harsha Shah is the current CEO at IndiGrid. 
Financial Performance of the Company
: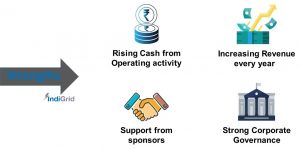 ---
---